Micro Ultra Light Flashers
Micro Ultra Light Flashers
We have designed our Micro Ultra Light Flashers for those fishermen who like less drag but maximum flash and visibility.  They are all assembled on 30# coated, braided stainless steel wire and are approximately 18 inches long.  Great for trolling in a kayak, float tube or boat.
Available Options...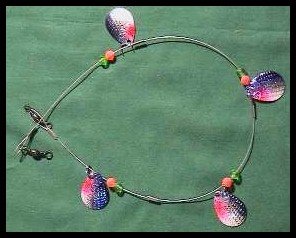 Micro Colorado blades, Blue minnow pattern on front, silver on back, with salmon red and lime green beads, on 30# coated stainless steel wire.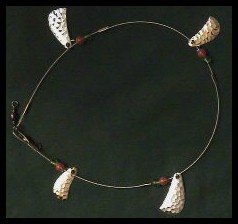 Micro hammered curved blades, alternating gold and silver,  with 2 blades that spin to the right and 2 blades that spin to the left, with salmon red and lime green beads, on 30# coated stainless steel wire.  Currently Out of Stock